Members
Welcome to OPTrust Select, a defined benefit pension plan designed to provide you with secure, predictable income in retirement – for life.
To join OPTrust Select, you must first be eligible under your employer's participation agreement. If you are eligible, your membership will be mandatory or optional, depending on your age and employment status. In certain cases, you may not be eligible to join OPTrust Select.
Your Guide to OPTrust Select
This booklet provides a summary of the features of your OPTrust Select pension. Please read it carefully as it contains important information that will be helpful at all stages of your career. Our Member Experience team is available to assist you if you have questions.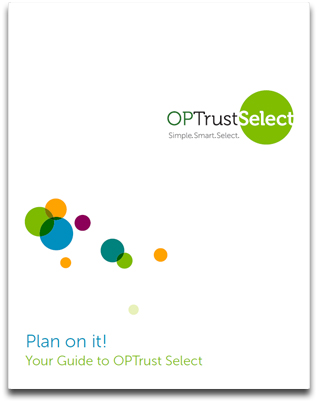 Forms for Members
Completing a PDF form
To complete a fillable form, download a copy, save it on your computer, and open it with Adobe Reader (the latest version is recommended). If you do not have it installed on your computer, you may download the latest version free of charge from
http://get.adobe.com/reader/otherversions
What you need to know
OPTrust Select's features:
Designed to pay you a monthly income for life
Based on service you earn and your pay each year
Payable at age 65 – or as early as age 55, with a reduction
Includes a survivor pension for a spouse (your pension is reduced to pay for it)
May include inflation protection.

Members and Employers are both required to contribute to the plan.
Members may be able to increase their pension by purchasing or 'buying back' certain periods of service.
Members who contribute to the OPSEU Pension Plan under the primary schedule of benefits cannot participate in OPTrust Select.
About the Plan
OPTrust Select is a schedule of benefits under the OPSEU Pension Plan, one of the top 10 public sector pension funds in Canada.
The fund has about $20 billion in assets. This is large enough to access investment opportunities that single employer plans like group RRSPs typically cannot. These investment opportunities allow OPTrust to diversify, and lower the risk associated with day-to-day market fluctuations.
In-house investment experts take the guesswork out of managing retirement savings.
As an institutional investor, the fund uses its size to bring about positive change in the world, on issues such as climate change and gender diversity in corporate leadership.
The Plan is fully funded, which means that we can deliver on the retirement promise made to all members: secure, predictable retirement income – for life.
Have questions about how OPTrust Select can provide greater retirement security for your organization and help you attract and retain top talent?