To protect the health and wellbeing of our members, employees and other stakeholders, proof of vaccination is required and masks are recommended for anyone visiting OPTrust's offices. If you have any pension questions, please send a
secure email
to our Member Experience team.
OPTrust Select
We all know we should be saving for retirement, but getting the most from our hard-earned dollars can be a challenge. That's where OPTrust Select comes in — to help you plan your future better, so you can rest easier.
For members it means you're on your way to a lifetime of secure, predictable income in retirement — for the price of a cup or two of coffee a day.
For employers it means an easy and affordable way to support your employees with a smart retirement income solution.
And we do all the heavy lifting, making it easy to get started!
Member benefits
Your pension is payable for life — you can't outlive it
You receive steady retirement income typically starting at age 65
Your employer also contributes to the pension fund
You are not responsible for managing any investments unlike other retirement savings plans
Your monthly pension is based on a formula and not impacted by day-to-day market fluctuations
Pensions may be increased to adjust for inflation at the discretion of the board
Employer benefits
A modestly priced way to support your employees with a valuable pension benefit, payable for life
Easy to join and roll out: with a dedicated OPTrust resource there for you at every step
Predictable contribution rates
A valuable attraction and retention tool
Plan administration managed by OPTrust
You do not pay any additional administration fees
OPTrust Select — a simple way to invest in your financial future and receive income in retirement — paid for life.
How it works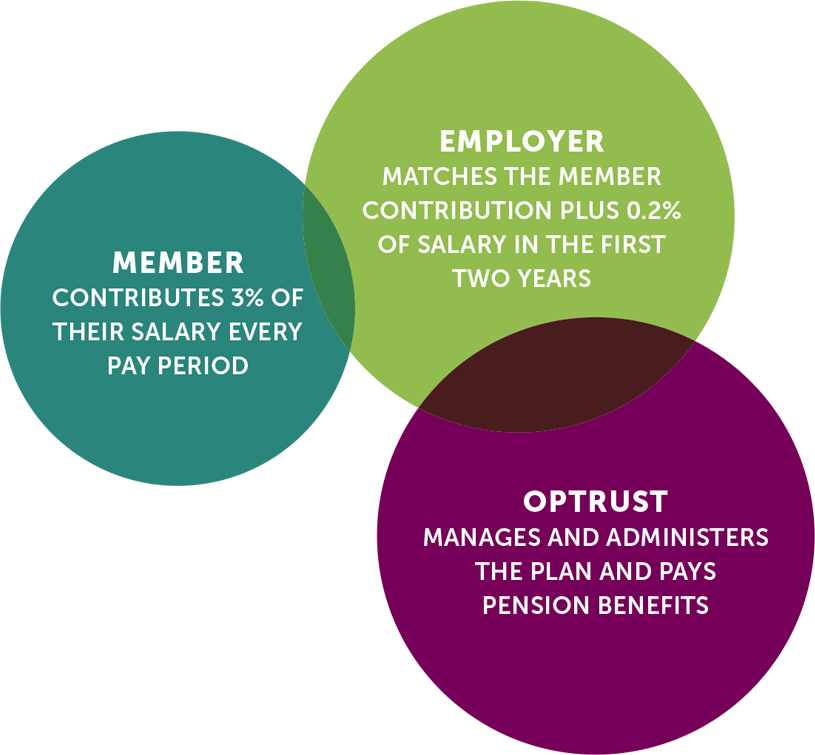 OPTrust Select: a simple, secure retirement income solution that's modestly priced.
OPTrust Select is a defined benefit (DB) pension offering
Simply put, a DB plan provides one of the best bangs for your buck by paying predictable retirement income, for life. That means you can't outlive your money. And who wouldn't want to plan on that?
OPTrust Select is offered by the same pension professionals that invest and manage the OPSEU Pension Plan, with net assets of over $25 billion and over 100,000 members and retirees. Backed by more than two decades of experience, OPTrust Select helps you plan on a sound financial future.
DB pensions help provide the retirement income certainty that Ontarians want and deserve.
Make our Plan part of your plan!
Contact us to learn more about the plan and your eligibility to join!
info@optrustselect.com
416 681-3609 in Toronto
1 833 678-7528 toll-free
Simple.
Smart.
Select.

This is a summary description of OPTrust Select, a schedule of benefits under the OPSEU Pension Plan. If there is a conflict between the summary and the official OPSEU Pension Plan text, the Plan text will prevail.